About Permanent Makeup Clinic
Permanent Makeup Clinic is located in Pensacola, with clients travelling from Mobile, Ft. Walton, Panama City, & all along the Gulf Coast. Learn more about permanent cosmetics by reading through the following sections. If you have any questions, feel free to contact us.
What is permanent makeup?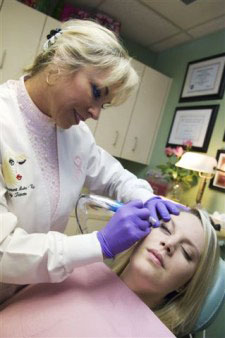 Permanent make-up is a simple, non-surgical procedure that allows pigment to be placed in the dermis by a multiple pronged probe. It causes little discomfort and some clients describe the sensation as being similar to tweazing their eyebrows. Topical anesthetizing agents are used to minimize discomfort.
A decade of superior research and development has resulted in the creation of the finest permanent cosmetic pigments available anywhere in the world; available in 134 different shades.
What types of permanent makeup do you offer?
Trinkette offers permanent makeup for eyebrows, eyeliner, lip liner & lip color, and scar camouflage. Trinkette also specializes in areola restoration for breast cancer victims.
Permanent cosmetics is a great alternative for active people with a limited amount of time to apply make-up. A safe, natural looking way to look your best anytime and all the time. Wake up with perfect make-up every day… and keep it that way! Permanent make-up is the perfect solution for those with eyesight impairment or unsteady hands due to medical conditions such as Parkinson's, Multiple Sclerosis, Arthritis, Paralysis or a host of other problems causing physical restrictions.
Color can be matched to your skin tone and applied to scar area to match the surrounding skin so that the scar seems to disappear. Eyebrows, eyelash enhancements and lip color can be done to reduce the appearance of hair loss, scarring or disfigurement.
Very safe, according to the Center for Disease Control. There has not been any evidence of HIV attributed to tattooing nor has there been any increase of Hepatitis B in the last 10 years. When the tattooing or permanent cosmetic work is done under proper sanitary conditions, there is no opportunity for disease transmission. Only sterile, disposable probes are used. All other equipment is either discarded after use or sterilized in an autoclave according to the strict guidelines set by the Center for Disease Control and Prevention.
Under the supervision of medical doctor, the use of the strongest topical anesthetics ensures your Permanent Makeup application will be a comfortable experience.